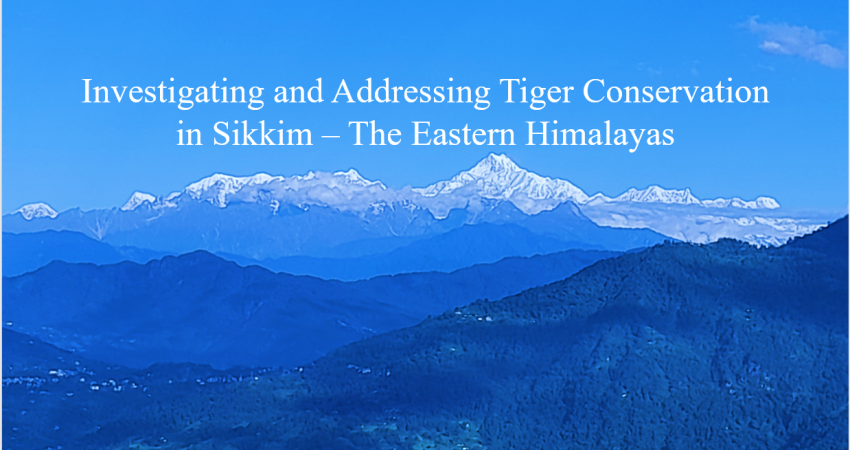 The state of Sikkim, characterized by a wide variety of ecosystems, ranging from sub-tropical forests to alpine meadows, is one of the most significant biodiversity hotspots, harbouring a diverse array of wildlife.
Recent camera trap surveys have provided evidence towards the presence of most charismatic species "Tiger" in the state. Presence and movement of tiger, usually on a seasonal basis, is also reported by locals of northern and eastern regions of Sikkim. It is likely that the tigers may have always occurred in Sikkim, however, very little is known on their status, distribution, and their migration routes (inter-state, intra-state, and trans-border). Evidence of tiger presence across the Eastern borders (in Bhutan) further highlight the importance of safeguarding transboundary forest linkages.
During the last two centuries, the tiger population has been declining due to increasing anthropogenic pressures, viz. forest fragmentation, fuel wood collection, poaching and illegal trade, and other reasons. The state of Sikkim is not an exception to these anthropogenic pressures. The State, being a critical corridor for the majestic Big Cat in the Eastern Himalayas, and with increasing anthropogenic stressors, tiger conservation in Sikkim has become more pertinent for preserving the genetic diversity and long-term survival of tiger and its prey.
To understand and address these challenges in Sikkim, the Global Tiger Forum is implementing a project supported by IUCN's Integrated Tiger Habitat Conservation Programme, funded by the German Cooperation via KfW Development bank titled "Investigating and Addressing Tiger Conservation in Sikkim – the Eastern Himalayas" . The project will be implemented in Khangchendzonga National Park (KNP), Shinba Rhododendron Sanctuary, Pangolakha Wildlife Sanctuary, Kyongnosla Alpine Sanctuary and reserve forests Lachen, Lachung, Chungthang, Phodong, Kabi, Tingda, Lagyap, Yali, Latui, and Phadamchen.
The overall project objective is to establish and standardize protocols for tiger monitoring and research in the state, reduce human-wildlife/ human-tiger interface, increase the overall household income of the local community; strengthening institutional capacity and maintaining effective monitoring and patrolling regime, while also maintaining the sanctity of the environment.
The project will focus on assessment and monitoring of species and its habitat including corridor (within Sikkim, Sikkim-West Bengal state border and Sikkim-Bhutan international border); strengthen the capacity of the forest personnel towards tiger conservation and its monitoring through training programs and by providing protected area infrastructure i.e., portable patrolling camps along with safety gear. The project will address ongoing human wildlife conflict issues, by installation of solar fencing and other appropriate HWC mitigation measures, while also addressing issues related to feral dog impact, and possible spread of zoonotic diseases. The project will also provide opportunities for sustainable livelihood by promoting ecotourism, nature guide training, providing market linkage and value addition to local produce, which simultaneously supports community development and reducing forest dependency of the community.
Disclaimer: This project is supported by IUCN's Integrated Tiger Habitat Conservation Programme, funded by the German Cooperation via KfW Development Bank. The contents of this article are the sole responsibility of GTF and do not necessarily reflect the views of IUCN, the German Cooperation or KfW.
Read Detail