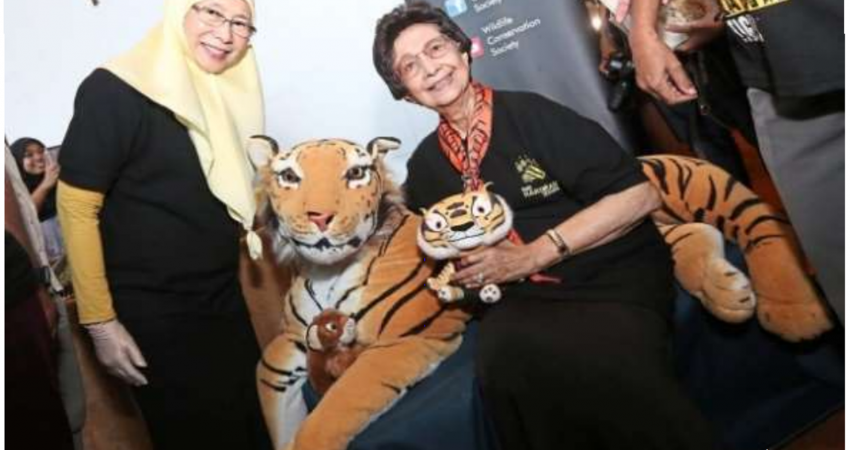 Source: Star online, Monday, 29 Jul 2019, Malaysia
PUTRAJAYA: Two battalions of the police general operations force (GOF) have been directed to assist the Wildlife and National Parks Department (Perhilitan) in tackling poachers, especially those hunting the endangered Malayan tigers, says Datuk Seri Abdul Hamid Bador.
The Inspector-General of Police said one of the battalions, comprising 500 members, would be deployed together with Perhilitan personnel to patrol the forest. Another battalion, he added, would be put on standby.
Both battalions are from Perak Senoi Praaq, the police unit made up mostly of Orang Asli.
Speaking to reporters after the launch of the World Tiger Day 2019 celebration here yesterday, Abdul Hamid said the police were committed to helping the Water, Land and Natural Resources Ministry in tackling the scourge of poaching.
"I am assigning the task to the Senoi Praaq battalions because of their tracking skills and their familiarity with the forest surroundings," he added.
He said the police, apart from drawing up a standard operating procedure in facing threats from poachers, would train Perhilitan personnel in the use of firearms.
This collaboration followed talks held recently to form a joint action force comprising the police and the Perhilitan to curb poaching and the sale of protected wildlife.
Meanwhile, Tun Dr Siti Hasmah Mohd Ali named three tiger cubs born at Zoo Negara in conjunction with the celebration at the zoo.
The Prime Minister's wife, who is also the patron of Save Our Malayan Tiger Campaign, named the two male cubs Wira and Hebat, and the female cub Melur.
Also present at the ceremony were Deputy Prime Minister Datuk Seri Dr Wan Azizah Wan Ismail as well as Water, Land and Natural Resources Minister Dr Xavier Jayakumar.
Dr Siti Hasmah also called for the people to work together to protect the Malayan tiger to ensure its population, which now stands at 200, would increase to 500 in future.
According to official data, there were more than 3,000 Malayan tigers in the country in the 1950s.
Dr Siti Hasmah said the Malayan tigers needed to be protected from extinction as the animal was featured in the nation's coat of arms to symbolise strength.
During the ceremony, she also received contributions amounting to RM1.33mil from private companies, NGOs, universities and schools including the Al-Bukhary Foundation and staff of ministries towards the Malayan tiger conservation efforts.
World Tiger Day is celebrated every July 29 to inculcate public awareness of the importance of protecting, preserving and conserving this endangered species.
At the event, the guests were also treated to a video of two groups of Malayan tigers — a pair of mother and cub as well as a female tiger with her three cubs — roaming in their natural habitat, which was believed to be a national park in Peninsular Malaysia.
The exact location of the national park had to be kept secret to protect the animals from poachers. — Bernama.
Article Source: GTF Newsletter 2019
Read Detail